Latest Update: The suspension has been lifted – it officially takes 10 business days for the filters to be reviewed for approval, but can take as quick as a couple of hours or just a matter of a few days!
Update 31/03/2020: Approvals for filters are still happening! Not as fast as before, but we are seeing filter submissions being approved, so it's not a complete suspension!



In an official update by Facebook through its Spark AR Creators page, all approvals and publishing of new AR filters have been suspended till further notice.
Here's the statement in full –
In response to COVID-19, we are working with our partners globally to send Spark AR reviewers home, for their health and the health of their communities. As a result, effects submitted to Facebook and Instagram will not be approved or published until further notice.

Creators can continue to use Spark AR Hub and submit their effects and updates to be reviewed at a later date. Some of our automated validation processes will still be active so creators can continue to get feedback on some aspects of their submissions.
We're actively exploring ways to offset this disruption and let creators get back to publishing. We can't yet provide exact timing on when this will happen, but we'll share updates in Spark AR Hub when we're able to.

Thank you for your patience during this time.
---
Is this only for Facebook or Instagram?
Both Facebook and Instagram are affected by this suspension. This also includes the new Facebook AR Ads.
What can we expect when the suspension is lifted?
Typically it takes about 10 days for a filter to be approved for publishing. The backlog is already present, and will only grow as we can expect submissions to continue during this period of suspension. This means that when the suspension is lifted, the time to approval new filters will likely increase.
What does this mean for us?
We've been helping brands gain presence and engagement on Instagram through publishing of branded Instagram AR filters for the past few months. Existing effects can still be accessed without disruption. But unfortunately, this means that there is no expected date that your effects can now be published.
However, we can still continue to create the effects and test them out privately so that when the suspension is lifted, your effect can get published sooner rather than later.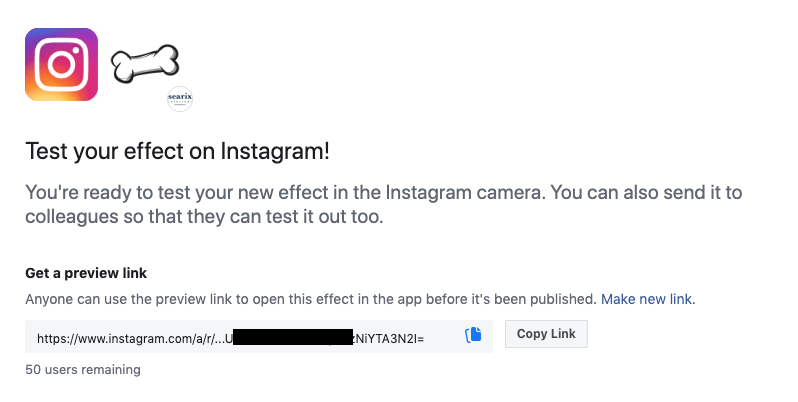 We can also still run the created effects on kiosk-mode through the Spark AR app, without going through publishing. This means that the filter will be available on that kiosk device, but will not be accessible by the public through any other means on Instagram or Facebook themselves.
Are there alternatives to creating AR effects?
If your audience is on Snap, you can still create AR effects for publication there. However, for AR effects directly accessible on Facebook or Instagram, all we can do is to wait for the suspension to be lifted.
It's our opinion that this suspension would not take long, given that Facebook itself has a remote working tool Workplace from Facebook. So sit tight – it could be just a week or two before we are back in business.
---
We wish the Spark AR review team good health and safety during this difficult time. Let's hope that a remote working arrangement is implemented for the team as well, so that the community can continue to thrive too.
Get in Touch