Are digital / online events the way to go now?
We want our events to resume again, but they can't. Not in the way that they used to happen, at least not for the time being. We all know how bad the situation with COVID-19 is and how it has affected businesses all over the world. A plethora of cancelled events and postponed events have plagued the industry and economy. But as some memes going viral on social media put it, "COVID-19 is cancelling everything but my bills"
Businesses need to adapt to new consumer behavior – social distancing, resistance to large expenses, and a lot more time spent at home, online. Thankfully, technology has evolved in such a way that makes is possible for us to still engage with our customers online through rich, real-time media.
Over the next few weeks, we'll share some ideas on how we can change the delivery format of various events to a digital one, while still achieving the requirements you need.

---
Live Streaming
Although there are a number of ways to get connected with your audiences, one of the key solutions we'll be sharing about is live streaming. You've seen Facebook Live, YouTube Live, LinkedIn Live, Twitch, Vimeo Enterprise, and so on. Social sellers have been using these tools to enhance their personal and business branding for years. Now we can use them to run our events and campaigns. In most cases, we'll use a setup of an unlisted YouTube Live stream.
You can still book a venue, create branding elements that will be in the video frame of the stream such as backdrops and animations. Multiple concurrent breakout sessions can still be held together in separate rooms at the same venue, supported by the same AV / camera crew too. Just yesterday, NeoTM shared their green screen studio setup at The Gym that events with such requirements could consider. This way, the live stream can contain a mix of both live and pre-recorded segments.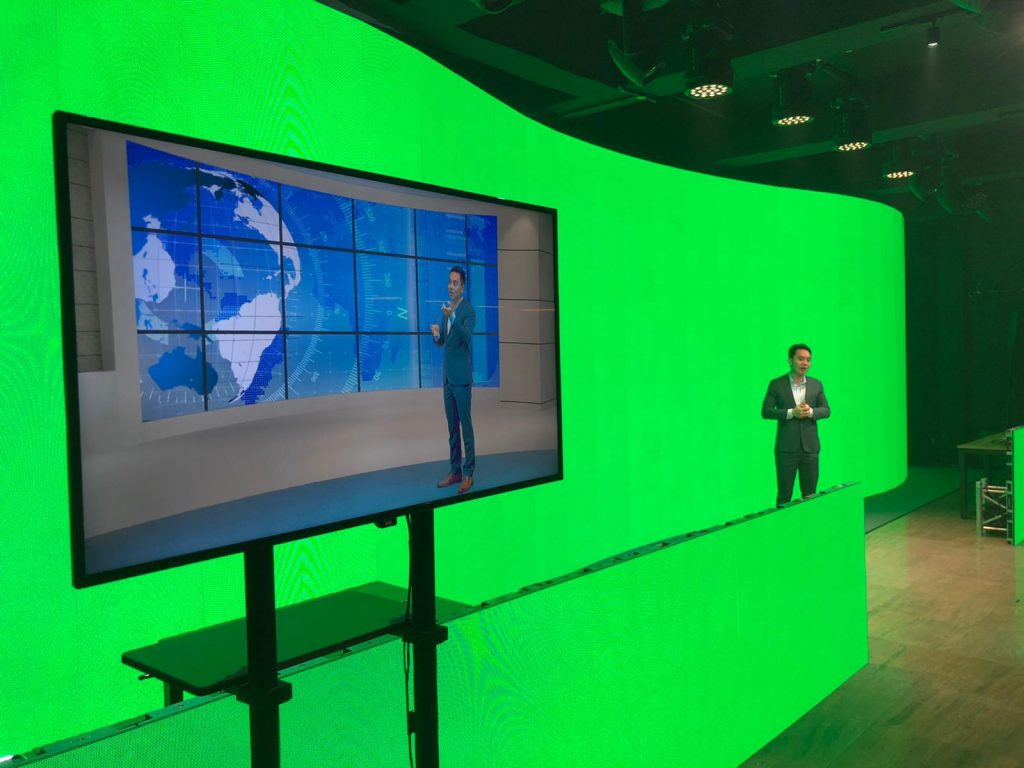 For this first instalment in the series, let's talk about a common type of event – corporate conferences with breakout sessions. We'll look at how we can integrate various tools to achieve an engaging fully-online digital conference.
At its core, a conference brings about people who are concerned about a particular topic together. These people seek ideas and solutions to improve the business problems they face. This offers an amazing branding and lead-generation opportunity for businesses that can showcase inspiring solutions to these problems. Breakout sessions come in handy to narrow the focus to more specific topics that the conference attendees might be interested in. The identities of these attendees are extremely valuable data to the sponsor of the breakout session because it offers them the opportunity to recognise these attendees as warm leads. As a result, these warm leads that may eventually lead to sales, or at least an opportunity to pitch for projects.
How do we replicate these value and tracking online? 4 simple steps.
---
1. Ticketing
The first step is to assign each of your guests with a virtual identity. In an uncontrolled environment, it could be tough to provide guidance to the less tech-savvy delegates in your guest list. Associating personal Google accounts or creating a separate account on another platform provider such as On24 could be met with resistance. Therefore, we believe that this step is best achieved by sending your guests a QR code and a random unique code, or even a special magic link during the RSVP or ticketing phase. No downloads or new account creations required.
This magic link would enable them to login directly onto the live streaming platform when the event is about to start.
At Searix, we have our own white-labelled RSVP solution that can achieve all of these methods of identity allocation. Other great solutions like EventBrite, Cvent or GevMe also provide your guests with a QR code that they may use upon successful ticketing.
2. Establish the identity of your guests
During the event day, your guests would need to access the platform that you would be conducting your online conference over. Only by establishing the identity of your guests can we faciliate the tracking of their activities through the digital conference. This could come in the form of…
Scanning the QR code that was sent to them on the login page of the conference; or
Keying in the unique code that was sent to them; or
Keying in the email address they used to register for the conference; or
Accessing the magic link that was sent to them
Upon logging in through any of the methods, they can be presented with an online dashboard that integrates the most useful information and tools relevant to the event that are popular in your region. For example, at Searix, we've developed a dashboard that does exactly this –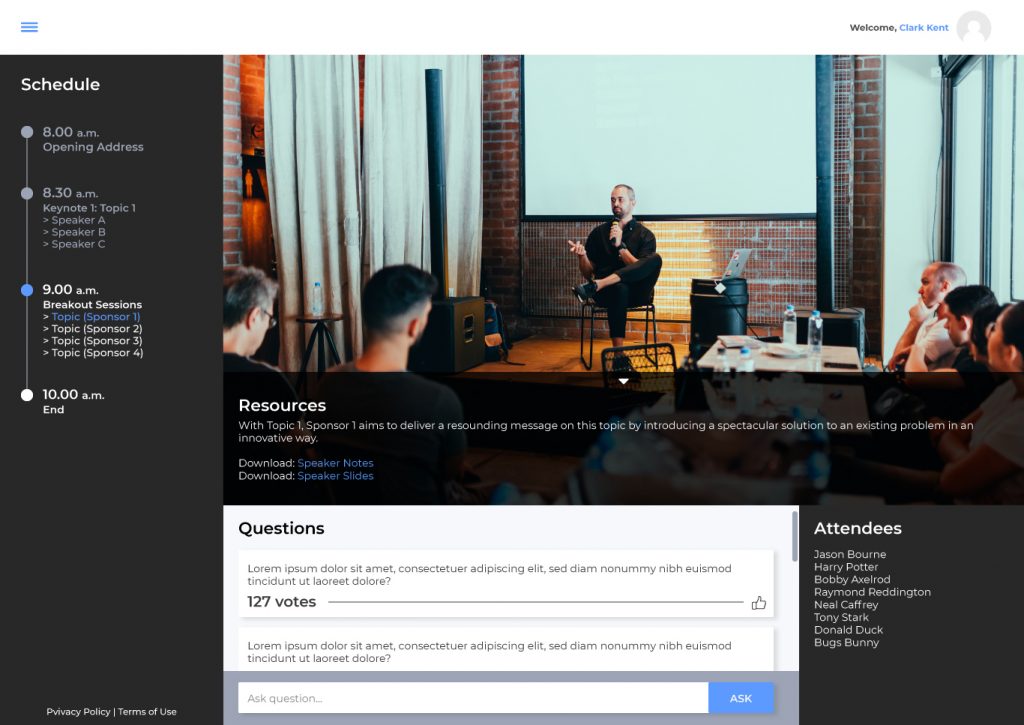 All the modules on the page can be switched for other widgets. We're still tweaking the system as we discover more needs, but so far we have…
A running programme that pulls the current and upcoming sessions into focus
Links to allow the conference delegate to switch tracks at any time
A large view of the conference video and audio stream
Access to the speaker's resources and slides
An attendee list in the current conference track, which will allow for inter-delegate communication and engagement
An integrated Q&A platform that allows the posting of questions related to that session
3. Track breakout sessions
In a typical conference event, there are some constraints that may prevent you from achieving the best data. For example, rooms may have a maximum capacity, so not everyone who is interested in the topic may be able to get in. Furthermore, in most Asian cultures, there is a general restraint towards leaving a breakout session to join another one mid-way. With an online conference implementation like this, delegates will be able to jump in and out of sessions. Each action of joining a session may be tracked so that you can then have an in-depth understanding of the topics that each of your delegates is interested in.
4. Engage with your audience online
In an online setup like this, one major advantage is the ability to be flexible with the tools that you would like to use. For example, in Singapore, the Q&A section can be an embedded Pigeonhole widget or it can also be replaced with a Voting widget from Mentimeter. Of course, at Searix, we have our own Live Voting and Conference Q&A solutions that may be integrated directly as well.
Going one step further – it is even possible to integrate tracking pixels like that from HubSpot or SalesForce so that you can assign lead scores based on various actions that your conference delegates take.
---
Sounds too easy. What are the drawbacks to this?
In one word: integrity. It is relatively easy to share a link to a live stream for non-authorized people to view. Even if the stream is password-protected, the password can be shared as well. Furthermore, even if only a single ticket is purchased, the stream can be projected in a shared setting.
In all likelihood, you will encounter some unauthorized viewers, and some shared viewers (perhaps in an attempt to save costs) too. But if you can now spend less on food catering and the falling venue rental prices, perhaps the opportunities generated from resuming these online conferences will overshadow the potential loss in event revenue.
Looking for a way to run your event digitally?
Get in Touch